Access Visual Flashcards to Improve Students' Vocabulary
Vocabulary practice doesn't have to focus on memorizing definitions alone. Students retain vocab knowledge through visuals, too. InsideStoryFlashcards.com offers ready-to-go photo flashcards for free! They are available in four levels of difficulty:
BASIC is appropriate for young children and ELL students learning to read.
EASY provides vocabulary challenge for a broad range of grade levels.
MEDIUM includes words appropriate for SAT preparation.
HARD is leveled for GRE prep and beyond.
Within each category, you can select the words you want to print by checking the boxes. (TIP: Click on print preview to make sure you have the print ratio set to 100%.)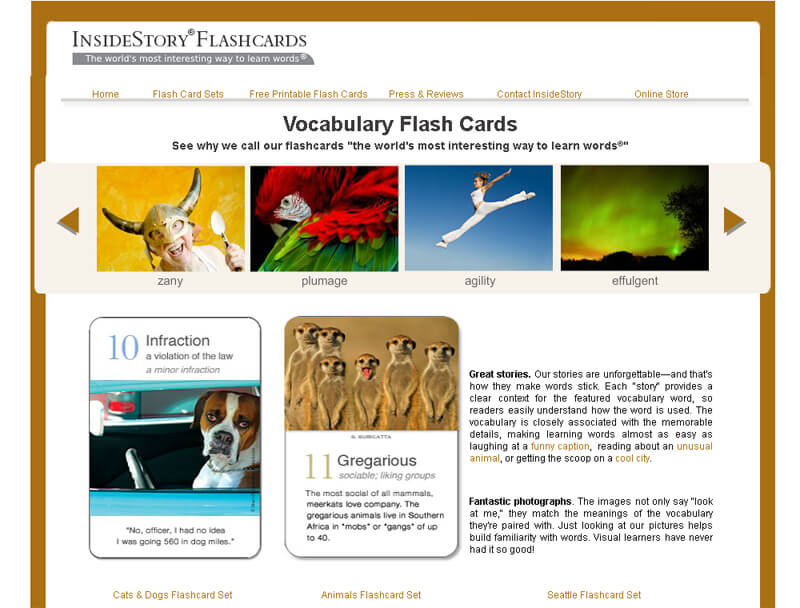 Looking for ways to incorporate these terms into your vocabulary instruction? Consider these…
Project the site on a screen or interactive whiteboard and use the flashcards as the "Word of the Day." Then challenge students to use the word in an assignment and/or conversation.
Have students work in pairs or small groups to see which team can create the most sentences using a single vocabulary word. Spice it up by offering the word-position challenge: The term must be the fourth word in each sentence.
Print the flashcards and use them as creative writing prompts. Simply show the image and the word and challenge students to write.
For more ideas on how to use InsideStoryFlashcards.com, visit Edutech for Teachers: Cool Tools for the 21st Century Classroom and/or iLearn Technology: An Edublog about integrating technology into the classroom.