Assess Reader Thinking with this Simple Handout
It's common for teachers to expect students to track their thinking while reading. This may include having students stop and share their thinking aloud with peers or jot unfamiliar words in the text or log their thinking on sticky notes.
Whether students are noting connections, asking questions, making predictions, synthesizing ideas, or sketching visualizations, a sticky note serves as a place for students to log that thinking. Although all of these thoughts can be adhered to the pages of the text the student is reading, this makes it difficult for the teacher to assess each student's individual thinking.
To troubleshoot this problem, Blair Pointe Elementary (Peru, IN) teacher Louanne Berryman provided her fifth graders with a Reader's Response handout. When it's time to demonstrate their thinking, students transfer their sticky notes from their texts to the squares of this 8×11 handout.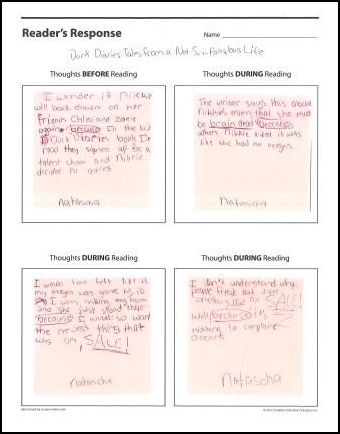 Notice how Louanne has different expectations for the thinking that occurs before, during, and after reading. Students place the sticky notes in the appropriate squares to indicate not only what they were thinking, but also when they had that thought in the reading process. This is so much better than juggling dozens of little slips of paper! Thanks for sharing, Louanne!
Jodie Pulciani, 5th grade teacher at Madison Elementary School (Lombard, IL) used this idea with her book clubs. This provided not only a way for her to assess her students' thinking, but the tool acted as a support for her students to use for text-based conversations during their book club meetings.