Introduce the Test Lady to students
During the 2010 Literacy Retreat, the Smekens Education consultants and staff participated in a Test Lady™ Style Show. To provide students a stronger sense of audience, the scorers behind the state writing assessments need to be humanized.
Giving students a person to write to is more motivating than if they think their writing will be scored by a machine. This is what prompted Kristina Smekens to invent the Test Lady—the old ladies who read and score all the state writing prompts.
As the Test Lady Sisters were introduced one by one, they walked up a center aisle as if they were models on a runway. (View video above.) More than just looking "old", these Test Ladies each represented an essential component in strong prompt writing. Their demeanor, clothing, props, and/or accessories mirrored their favorite parts of good writing. Not only do students need to know there is a person reading their prompt writing, they also should know what the scorer is looking for.
In 2018, a new Test Lady™ Sister shared four of her tips & tricks for test taking with fourth graders at Adams Central Elementary (Monroe, IN).
Eva Evidence: To prepare for constructed-response writing, Eva passionately shares her tips with any students who will listen.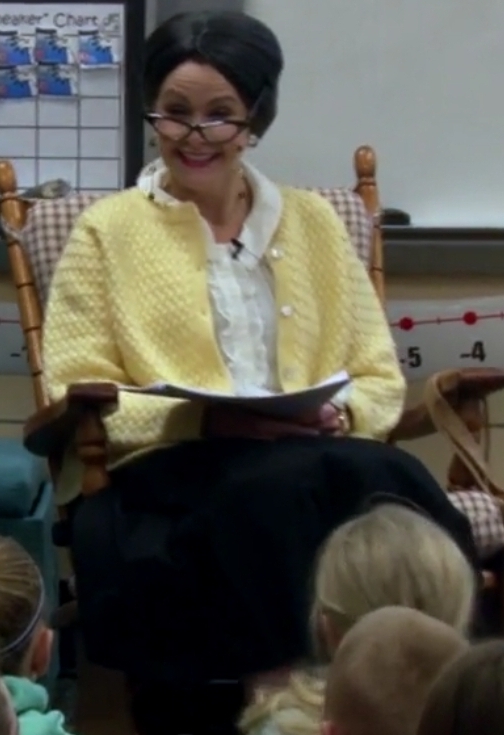 Dressed in her comfortable cardigan with her horn-rimmed glasses in place, she provides teachers with the tips their students need to succeed on the test.
She's the first to admit that sometimes she and her sisters use some pretty fancy "teachery" words, so she wants students to read carefully and think before they pick an answer. She loves it when students include proof from the reading to back up their inferences.
And you'll always see her with a highlighter in hand ready to mark up a reading passage to determine what it's mostly about. More than anything, Eva wants students to succeed on the test and in their schoolwork.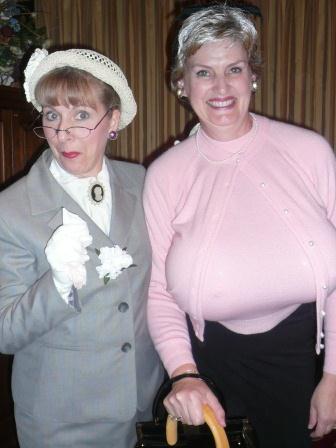 Prudence Prompt: (pictured with Edith Ending) Dressed prim and proper (e.g., lace hanky, white gloves, cameo brooch, etc.), Prudence is all about being correct. She looks for students who stick to the topic. She is very strict about what she wants them to write about, and following that assigned topic is very important to her.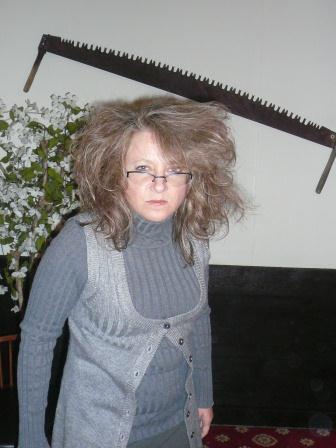 Penelope Pre-Writing: The foundation to all good writing is thinking before you write. Penelope expects students to do a simple pre-write, but she rarely finds a pre-write done well. Sometimes students write whole sentences. Sometimes they leave it blank. Sometimes they spend too much time on the pre-write. It all drives Penelope crazy to the point of pulling her hair out. (This Test Lady had teased her long hair to stand up as if she'd been pulling it out.) She knows that to achieve a well-organized first draft, students need to think before they write.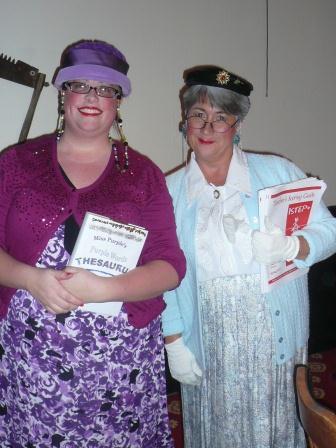 Tallulah Title: (pictured with Prunella Purple Words) She may look short and sweet, but don't be fooled. Tallulah is powerful! She's like her favorite part of writing the title. It's just a small little phrase at the beginning of the writing, but it can pack quite a punch! The title is the first opportunity students have to really hook the reader and set the tone for their writing. Tallulah appreciates students who consider the best title for their pieces. Rather than just labeling their writing by using the same title as the prompt, students should use voice and grab the reader's attention. NOTE: The lady who portrayed Tallulah is about 4′ 11″. Perfect for the part!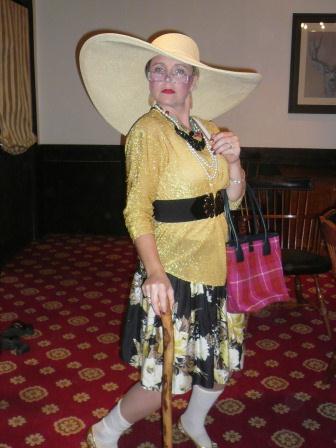 Laverne Length: Dressed from head to toe in bling. She's covered in gold, glitter, jewelry, and every accessory she could find. Laverne is all about the fine details in writing. She is looking for long, developed writing. She doesn't just want some details, she wants lots of details. (She doesn't want one accessory, she wants 10!) She loves writing that carries on for several pages and elaborates on every aspect of the required tasks outlined in the prompt. She is looking for students who utilize lots of details, like specific names, sensory descriptions, interesting comparisons, relevant reasons, and significant examples. She values students who explain their ideas thoroughly, not just mention them. Laverne is all about length! She values the fine details in student writing.
Prunella Purple Words: (pictured with Tallulah Title) Prunella can't wear enough purple. She has her favorite purple frock, with purple sparkles, a purple hat, purple shoes, and her purple purse. She is so excited to mark fabulous word choice with her purple highlighter; it's become her new favorite color. And Prunella would like all the writers to know, she loves purple words/big words spelled wrong more than plain, boring words spelled right. So she really wants to encourage students to go for those bigger, better words in their prompt writing.
Edith Ending: (pictured with Prudence Prompt) This Test LadyTM Sister loves endings. More than just her clothing and accessories, Edith's favorite part of good writing seems to have affected her body shape. Get a look at her "rear" ending. (She stuffed her panty hose to make her butt bigger.) She doesn't want a minimal ending that simply announces THE END, or Thank You, or Goodbye. She wants an intentional ending. NOTE: Edith also had balloons for her chest. Point out that Edith has a pretty good "beginning" too. Edith appreciates intentional beginnings and intentional endings in prompt writing.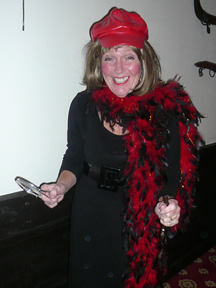 Cherry Check-it-Over: Many students finish their writing and then are quick to turn it in. It would be better if they would read it over carefully. Cherry wants students to take that final step of self-editing seriously. It's all about the finishing touches, punctuation, capitalization, correct grammar. She loves to see signs that students went back into their drafts and made some minor changes. Sometimes it includes striking through weak word choice and replacing it with stronger (purple) words. Sometimes it includes inserting a paragraph symbol where the writer forgot to indent. Maybe it simply includes changing word spellings and/or inserting in missing punctuation. Using her magnifying glass, Cherry is always looking for evidence that the students reread their writing before they turned it in.
Many teachers have embraced Kristina Smekens idea of the Test Lady™, giving students an authentic audience to write to on standardized assessments.
Some teachers have students visualize their own picture of the sweet old woman who scores their read-write prompts. Others dress up and act out the scorer themselves.
Regardless of how you present the Test Lady to students, be sure to characterize her as as a positive person who is eager to read their written responses.
Thanks to all the creative and generous teachers who shared their ideas.
Live appearance
Cathy Strawer, Colleen Hostetler, and Jenni Kramer are fourth grade teachers at Topeka Elementary (Topeka, IN). Here's what they did — "We had our own Test Lady come and review key prompt writing skills with the kids. She dressed wildly, with a hat, sequins, and fishnet stockings! The kids thought she was a HOOT!"
Paper-plate portraits
South Adams Middle School (Berne, IN) teacher Melissa Beitler initially discussed the role of the test scorer and the 6-Trait skills that would be expected of a sixth grade writer. Then, she had students write a specific description of the test scorer they imagined in their own minds. (Paragraph 1: appearance, personality, family; Paragraph 2: likes/dislikes; Paragraph 3: writing expectations). The final piece to the activity included students drawing the face of the test scorer onto a paper plate. Check out some of the Paper Plate Portraits and two student-written descriptions.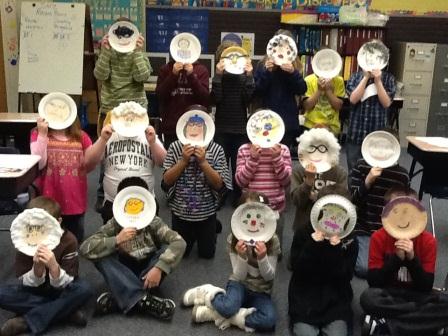 Austin Theobald, 3rd grade teacher at Loper Elementary School (Shelbyville, IN), introduced his students to the Test Lady. They call her Dorothy Bridgeford. Austin asked his students to create paper plate portraits of Dorothy. He was more than pleased with the results. One child used macaroni and tortilla chips. Another student borrowed his mom's make-up! Now the portraits are hanging above the chalkboard in his classroom…waiting. Thanks, Austin, for sharing how you're getting your students ready to write for the test!
Test Lady door decor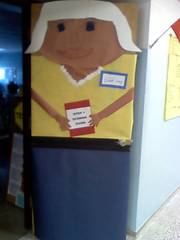 Jenny Gibson, Redkey Elementary School Resource Room Teacher (Redkey, IN) turned her door into the Test Lady! She is larger than life with white hair, a pretty dress, a watch (since tests are timed), and she is wearing a name tag that says, "Hello! My name is…Test LADY" She is sweet looking, but she is holding the "Scoring Guide" in her hands.
In the past, Jenny had students draw their own pics of the Test Lady. For a change, she decided to show them her idea of what "she" looks like. Jenny refers to the Test Lady in writing lessons, reading lessons, and math lessons and reminds studens that they can ask her questions now, but during standardized assessments, they won't be able to ask questions or explain themselves to her. Jenny told her students that after testing ended, the Test Lady would be leaving to grade their tests. She stressed how important it is to make sure we give "her" all the info needed on the test. This concept motivated the students to add evidence and detail to their writing–and show all work in math!
They talk about "her" all year, but the visual reference helps!
Test Lady T-shirts
Kelsy Clark (and colleagues) talked up the Test Lady before testing and had a BALL. The kids asked question after question about whether or not their teachers had met the Test Lady, what she looked like, why she was so picky, etc. Although the week of the state test can be excruciating, these teachers wanted to liven their kids up towards the end. So, since the students had already drawn their pictures of the Test Lady, these five teachers decided to draw their versions on T-shirts and wear them to school. The kids LOVED it! One student saw the shirts and immediately said, "I KNEW she had glasses!" Ha!
Test Lady glasses
Instead of having her students draw portraits of the Test Lady, Upland Elementary (Upland, IN) teacher Colleen Yordy (left) introduced her through the different glasses she wears. She has her Punctuation glasses that include "diamond periods" on the frames. She wears large, round glasses when she's looking for WOW words. Colleen continues on with glasses for spacing, capital letters, and sticking to the prompt topic. Each of the frames is within a pocket chart. And when students are "done" writing in her classroom, they move to the corner and put on the different glasses to check over their work, just as the Test Lady would. What a great way to integrate the idea of Test Lady with your students' writing process. So creative! (Pictured with Colleen are Upland teachers Terri Brooks and Debbie Small.)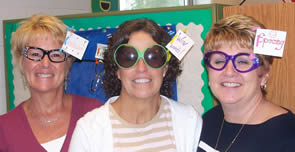 Lost & found
Bluffton-Harrison (Bluffton, IN) fourth grade teacher Julie Meitzler challenged students to draw their own images of the Test Lady in response to news that she had "gone missing." Julie created a terrific mock newspaper article that explained the details. Thanks for sharing, Julie!
Look for the Test Lady

In preparing his fourth graders for an Indiana writing assessment, David Henry (teacher at Sweetser Elementary in Sweetser, IN) introduced the Test Lady to his students. He described her as a sweet old lady who lives in Indianapolis. He named her Vestible McFlannery and said she was excited to read their writings.
Revive the Test Lady
Fifth grade teacher Staci Salzbrenner at Woodburn Elementary (Woodburn, IN) passed back the students' Test Lady portraits just before test day. She asked them to identify 1-3 specific goals they have for their written responses. This might include: decode the prompt carefully, add elaboration to all evidence, name which text each piece of evidence comes from, etc.
Test Lady substitutes
Kim Riddle, Bryan Kratzer, and Amanda Dreibelbis, teachers at Washington Discovery Academy (Plymouth, IN), will do whatever it takes to encourage their students. These Test Ladies (and Gentleman) were found subbing at their school. Do you know what time it is? The Test Ladies have arrived at WDA! Go Wildcats!
Test Lady as lunch lady
The Test Ladies visited SENSE Charter School (Indianapolis, IN) during the weeks leading up to standardized testing to help students prepare for the writing portion of the test. During test week, the Test Ladies served breakfast to all students taking the test. Fourth grade students drew pictures of what they thought the Test Ladies looked like before they were able to meet them.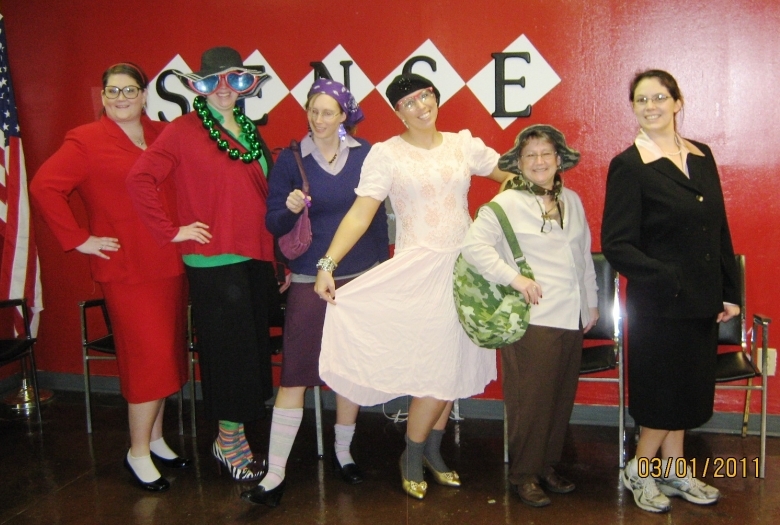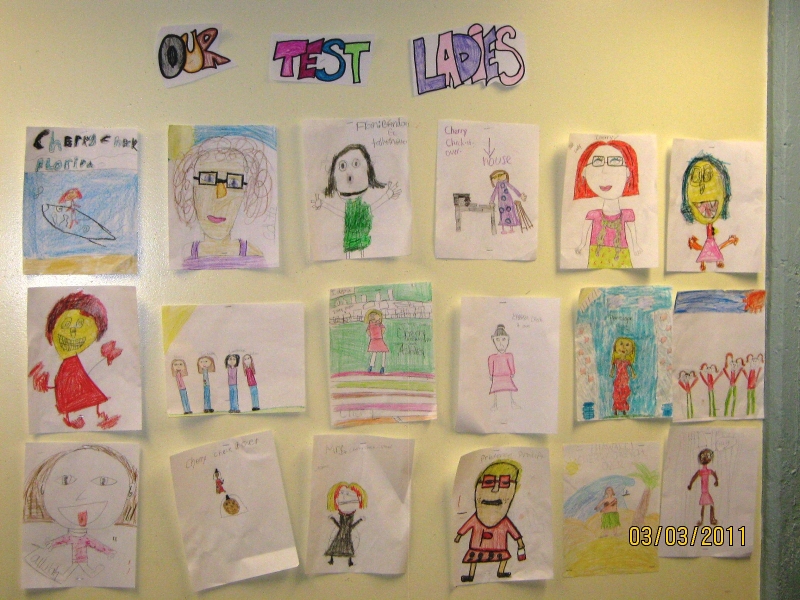 Smith Elementary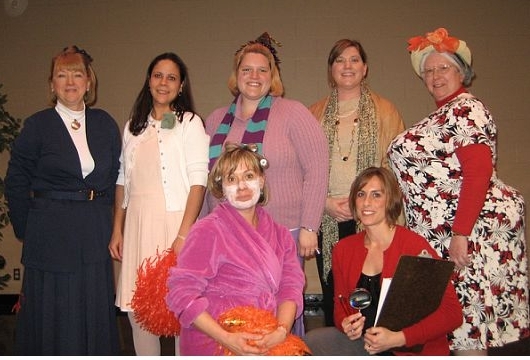 Teachers at Smith Elementary (Martinsville, IN) did a Test Lady fashion show for the students in grades 1-5. They even did a cheer for state testing at the end: "2 bits, 4 bits, 6 bits, a dollar. We'll pass the test, stand up and holler!" Rachel Crabb shared, "We had lots of fun! And the kids remembered what each lady wanted."
South View Elementary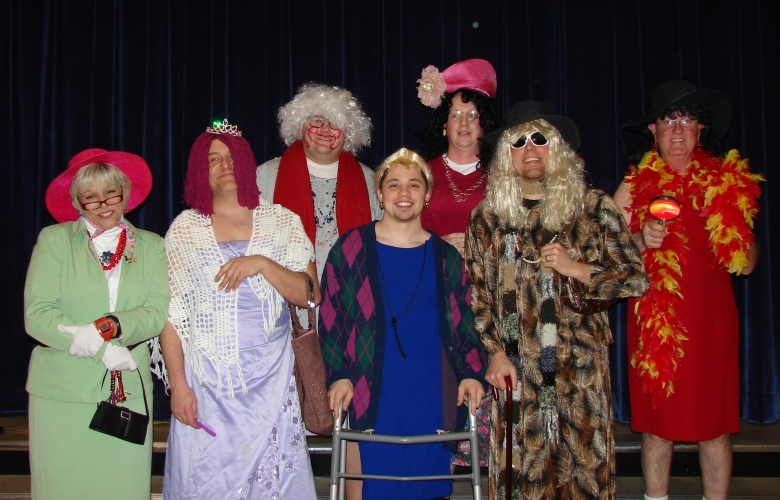 Check out the Test Lady™ Sisters that graced the stage at South View Elementary (Muncie, IN)! Using the Test Lady Script, each "'sister" was introduced to the students and paraded around during an assembly held the week before the state writing prompt. This is a great message to give the kids right before testing. If teachers were willing to do this, shouldn't the kids do their best on the test? The kids loved it. Love it!
Hagerstown Elementary
Some very daring Hagerstown Elementary fourth and fifth grade teachers utilized the Test Lady Sisters script (originally written by Kristina Smekens and performed by her staff during the 2010 Literacy Retreat) and added two additional "sisters" for their own presentation. The Hagerstown students enjoyed a visit from the Test Lady Sisters who offered some test-taking advice.
Yorktown Middle School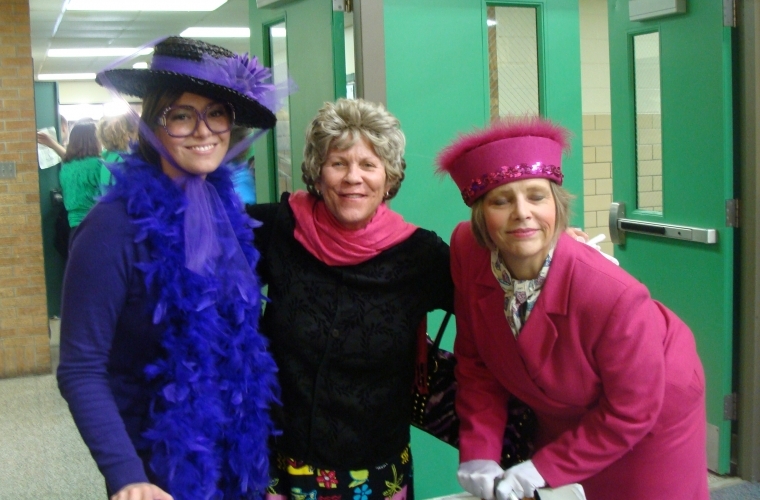 Inspired after the fall Retreat Test Lady skit, Suzy Fox (Yorktown Middle School, Yorktown, IN) went back to her middle school wondering if it would work for her students. Her principal gave her the go-ahead to provide a pre-test convocation for the students. At the school's next staff meeting, Suzy asked for volunteers, and immediately, seven teachers volunteered. Suzy's team of teachers became the "Test-Time convo committee."
They decided to go a little beyond the Test Lady skit and include a math portion. A couple of their sixth grade math teachers created a "math race" where the kids had to find the mean, median, mode, and range based on numbers found in famous songs (think 867-5309). So the convo consisted of a math portion, Test Lady skit, one of the 8th graders singing Katy Perry's song "Firework," and THEN, they solicited donations from area businesses and gave away nearly $2000 in prizes!!! FABULOUS!!
In the picture, Trea is standing in front of Suzy's test goals bulletin board. The school's motto this year was to "Go for Growth." She had her students write out their goals and she hung them in the hallway to hold them accountable. What great ideas to inspire! Thanks for sharing, Suzy!
The week prior to state testing, they had dress-up days just like for homecoming week. Students from each grade level were given prizes daily if they dressed up. They had T-shirts made (designed by the art teacher) with a "Go for Growth" logo on it to give to every student in the building. Kids who dressed up each day had their names put in a drawing for an XBOX 360, and the first period class who had the most students wear their TEST T-shirts the day of the convo, had their names put in a drawing for a Concannon's breakfast. They had almost 100% participation that day–amazing!!
The convocation turned out to be much more than expected. According to Suzy, "It truly was one of the best days of my teaching career; it brought our whole school together in a way that I have never seen before. The kids loved it, the teachers loved it, and it really changed the climate of our school in preparation for testing. The students were really pumped up, and I'm hoping that is reflected in their test scores."
Suzy also shared about the Test Lady contest they held where students submitted pictures (this was a HUGE hit with our students) of what they thought the Test Lady looked like. The picture shows the winning student who received movie money and a Hershey bar for his entry: Mildred, complete with a caption that read, "Mildred says study like a champion today."
Liberty Elementary School
Principal Kathy Sourbeer shared a great picture from their pre-test Pep Rally at Liberty Elementary School (Liberty, IN). She said the Test Ladies showed up and really rocked the house! Students commented afterwards that they will easily recall each Test Lady's memorable costume and how it corresponds with a key aspect they should include within their own writing. Way to go Liberty Elementary!
Adams Central Elementary
Mandi Herring, Literacy Coach at Adams Central Elementary (Monroe, IN), appeared as 2013 Test Queen to equip students with how to "rule" the Test time. With a little help from other "contestants" for queen, Mandi presented a PPT presentation (PDF version) full of good reminders for the test. At the end of the kick-off, students were all crowned (with Burger King crowns) and ready to "rule" the state test.
Clear Fork Elementary
The Test Lady Sisters visited Clear Fork Elementary School (Beckley, WV) the week of their state-wide Online Writing Assessment. Pictured (from left to right) are Peg PencilNeck, Prudence Prompt, Penelope Pre-Writing, Harriet Hook, Laverne Length, Prunella PurpleWords, Edith Ending, and Cheery Check-it-Over. Each character walked the runway while a description of her favorite aspects of writing were recited. The intermediate students enjoyed this fun, high-energy assembly.