Introduce the Test Lady to Students
Many teachers have embraced Kristina Smekens idea of the Test Lady™, giving students an authentic audience to write to on standardized assessments.
Some teachers have students visualize their own picture of the sweet old woman who scores their read-write prompts. Others dress up and act out the scorer themselves.
Regardless of how you present the Test Lady to students, be sure to characterize her as as a positive person who is eager to read their written responses.
Thanks to all the creative and generous teachers who shared their ideas.
LIVE APPEARANCE
Cathy Strawer, Colleen Hostetler, and Jenni Kramer are fourth grade teachers at Topeka Elementary (Topeka, IN). Here's what they did — "We had our own ISTEP Lady come and review key prompt writing skills with the kids. She dressed wildly, with a hat, sequins, and fishnet stockings! The kids thought she was a HOOT!"
PAPER PLATE PORTRAITS
South Adams Middle School (Berne, IN) teacher Melissa Beitler initially discussed the role of the ISTEP scorer and the 6-Trait skills that would be expected of a sixth grade writer. Then, she had students write a specific description of the ISTEP scorer they imagined in their own minds. (Paragraph 1: appearance, personality, family; Paragraph 2: likes/dislikes; Paragraph 3: writing expectations). The final piece to the activity included students drawing the face of the ISTEP scorer onto a paper plate. Check out some of the Paper Plate Portraits and two student-written descriptions.
Austin Theobald, 3rd grade teacher at Loper Elementary School (Shelbyville, IN), introduced his students to the Test Lady. They call her Dorothy Bridgeford. Austin asked his students to create paper plate portraits of Dorothy. He was more than pleased with the results. One child used macaroni and tortilla chips. Another student borrowed his mom's make-up! Now the portraits are hanging above the chalkboard in his classroom…waiting. Thanks, Austin, for sharing how you're getting your students ready to write for the test!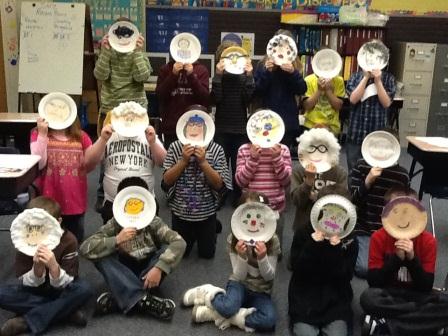 TEST LADY DOOR DECOR
Jenny Gibson, Redkey Elementary School Resource Room Teacher (Redkey, IN) turned her door into the Test Lady! She is larger than life with white hair, a pretty dress, a watch (since ISTEP is timed), and she is wearing a name tag that says, "Hello! My name is…Test LADY" She is sweet looking, but she is holding the "ISTEP Scoring Guide" in her hands.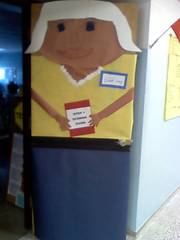 In the past, Jenny had students draw their own pics of the Test Lady. For a change, she decided to show them her idea of what "she" looks like. Jenny refers to the Test Lady in writing lessons, reading lessons, and math lessons and reminds studens that they can ask her questions now, but during standardized assessments, they won't be able to ask questions or explain themselves to her. Jenny told her students that after testing ended, the Test Lady would be leaving to grade their tests. She stressed how important it is to make sure we give "her" all the info needed on the test. This concept motivated the students to add evidence and detail to their writing–and show all work in math!
They talk about "her" all year, but the visual reference helps!
TEST LADY T-SHIRTS
Kelsy Clark (and colleagues) talked up the Test Lady before testing and had a BALL. The kids asked question after question about whether or not their teachers had met the Test Lady, what she looked like, why she was so picky, etc. Although the week of the state test can be excruciating, these teachers wanted to liven their kids up towards the end. So, since the students had already drawn their pictures of the Test Lady, these five teachers decided to draw their versions on T-shirts and wear them to school. The kids LOVED it! One student saw the shirts and immediately said, "I KNEW she had glasses!" Ha!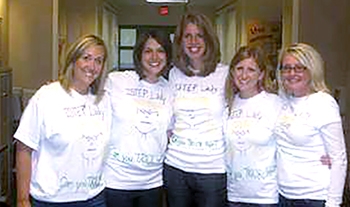 TEST LADY GLASSES
Instead of having her students draw portraits of the Test Lady, Upland Elementary (Upland, IN) teacher Colleen Yordy (left) introduced her through the different glasses she wears. She has her Punctuation glasses that include "diamond periods" on the frames. She wears large, round glasses when she's looking for WOW words. Colleen continues on with glasses for spacing, capital letters, and sticking to the prompt topic. Each of the frames is within a pocket chart. And when students are "done" writing in her classroom, they move to the corner and put on the different glasses to check over their work, just as the Test Lady would. What a great way to integrate the idea of Test Lady with your students' writing process. So creative! (Pictured with Colleen are Upland teachers Terri Brooks and Debbie Small.)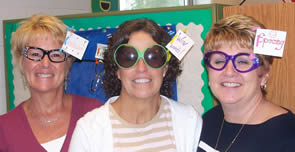 LOST & FOUND
Bluffton-Harrison (Bluffton, IN) fourth grade teacher Julie Meitzler challenged students to draw their own images of the ISTEP Lady in response to news that she had "gone missing." Julie created a terrific mock newspaper article that explained the details. Thanks for sharing, Julie!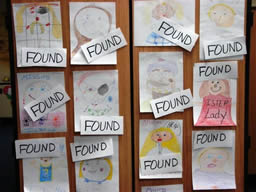 LOOK FOR THE TEST LADY
In preparing his fourth graders for an Indiana writing assessment, David Henry (teacher at Sweetser Elementary in Sweetser, IN) introduced the Test Lady to his students. He described her as a sweet old lady who lives in Indianapolis. He named her Vestible McFlannery and said she was excited to read their writings.

REVIVE THE TEST LADY
Fifth grade teacher Staci Salzbrenner at Woodburn Elementary (Woodburn, IN) passed back the students' Test Lady portraits just before test day. She asked them to identify 1-3 specific goals they have for their written responses. This might include: decode the prompt carefully, add elaboration to all evidence, name which text each piece of evidence comes from, etc.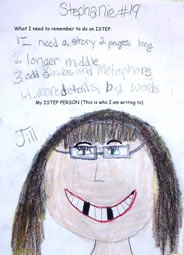 TEST LADY SUBSTITUTES
Kim Riddle, Bryan Kratzer, and Amanda Dreibelbis, teachers at Washington Discovery Academy (Plymouth, IN), will do whatever it takes to encourage their students. These Test Ladies (and Gentleman) were found subbing at their school. Do you know what time it is? The Test Ladies have arrived at WDA! Go Wildcats!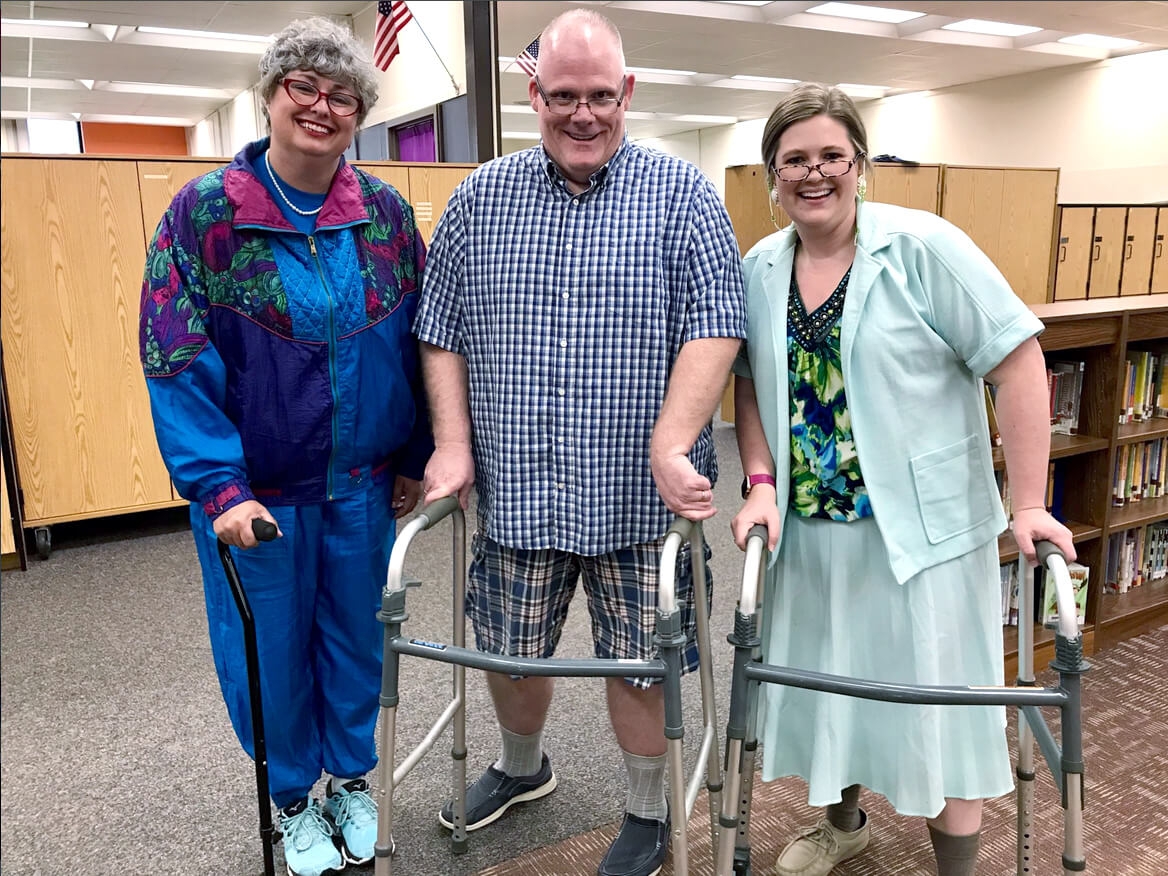 TEST LADY AS LUNCH LADY
The Test Ladies visited SENSE Charter School (Indianapolis, IN) during the weeks leading up to ISTEP to help students prepare for the writing portion of the test. During ISTEP week, the Test Ladies served breakfast to all students taking ISTEP. Fourth grade students drew pictures of what they thought the Test Ladies looked like before they were able to meet them.