Supersize Sentences in the Primary Grades
Elaine Krause from Jackson Elementary (Valparaiso, IN) is a first grade teacher who loves increasing the vocabulary and sentence length of her young writers using the "super sentence" approach outlined by Jo Ellen Moore in her resource book, Write a Super Sentence.
When her students are ready to beef-up their simple sentences, Elaine uses this as an opportunity to introduce parts of speech laminated into mini-posters. Elaine asks her students to add key word phrases to their original sentences in order to add detail and to supersize them.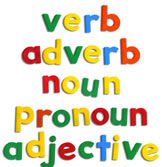 For example, the original sentence may have read, "The pig ate corn." After supersizing, it may read, "A pink pig ate crushed corn from the feeder all day."
Elaine has found that this activity not only translates into their everyday writing, but it has been a powerful way to work on developing their vocabulary and word choice, too.