Teach Students to Assess Readability of their Own Writing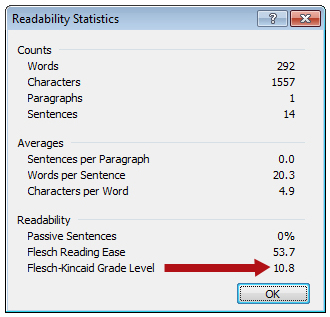 When you're ready to nudge students to the next level in their writing, you might want to introduce them to the Flesch-Kincaid Grade-Level Test. Microsoft Word has a built-in feature that will give you a score, letting you know the grade-level readability of your document. This is one of the best known indicators of how sophisticated and mature the writing is.
To calculate the grade-level score, the program takes into account the average number of syllables per word and the number of words per sentence within the writing. Utilizing bigger, better word vocabulary (multi-syllabic words) and compound and complex sentences can increase the grade-level score. What a great way to tie in mini-lessons on the traits of word choice and sentence fluency!
So when a fifth grader finishes typing his assignment and checks his readability level on the computer, it might tell him 2.6, meaning his writing sounds like a second grader wrote it in the sixth month of the school year. WOW! That will get him to sit up and take notice! So what does he need to revise? He needs to look at his word choice, replacing weak verbs and general nouns with more specific and precise vocabulary. He also needs to look at his sentence structure and consider combining some sentences and/or elongating some sentences (with prepositional phrases, dependent clauses, etc.) in order to increase his average number of words per sentence.
Creating the MS Word setting
Often this setting needs to be turned "on" in order to display the Flesch-Kincaid Grade-Level Score. If yours is not, here are a couple of easy steps to follow to enable the setting.
In Microsoft Word 365
1. Open your MS Word document.
2. From the top tool bar, click Review.
3. Click Editor.
4. When the Editor window opens, click Settings.
5. Under "When correcting spelling and grammar in Word," toggle "Show readability statistics."
Within Microsoft Word 2007:
1. Open your MS Word document.
2. Click the Microsoft Office Button (top left of screen) and then click Word Options (bottom right of box).
3. Click Proofing (see list on left-side of box).
4. Make sure Check grammar with spelling is selected.
5. Under When correcting grammar in Word, select the Show readability statistics check box.
In Microsoft Word 2003:
1. Open your MS Word document.
2. Click Tools (top line), and then click on Options (bottom of list).
3. Select Spelling & Grammar tab.
4. Under Grammar, check Show Readability Statistics.
After you enable this feature, check the spelling of the document. When Microsoft Word finishes checking the spelling and grammar, it displays a second box of information about the reading level of the document. (See last line of this second box for the Flesch-Kincaid Grade-Level Readability Score.)