Organize Supplies to Maximize Time in Small Groups
Most teachers conduct reading groups at a separate table. However, with a little organization, that valuable work space can be used for other purposes all day long. Rather than storing reading-group materials on the table, consider using a portable organizational tote. This keeps instructional tools handy without requiring permanent table space.
Front Section of Tote
On one side of the tote will house student and teacher tools. Include a narrow basket to hold smaller items.
Student supplies
Sticky notes to extract details or note thoughts in the text.
Sticky flags to mark details in the text.
Dry-erase markers for writing on white boards.
Erasers for dry-erase markers.
Skinny Crayola markers for beginning readers to write on sentence strips or in a writing book.
Sharpened pencils for writing in a reader response journal.
Teacher supplies
Pen or pencil to take notes on reader behaviors during the reading.
Timer to ensure group meetings last 20 minutes or less.
Cover-up tape for writing errors primary students make with markers.
Scissors to cut words apart after constructing a sentence strip.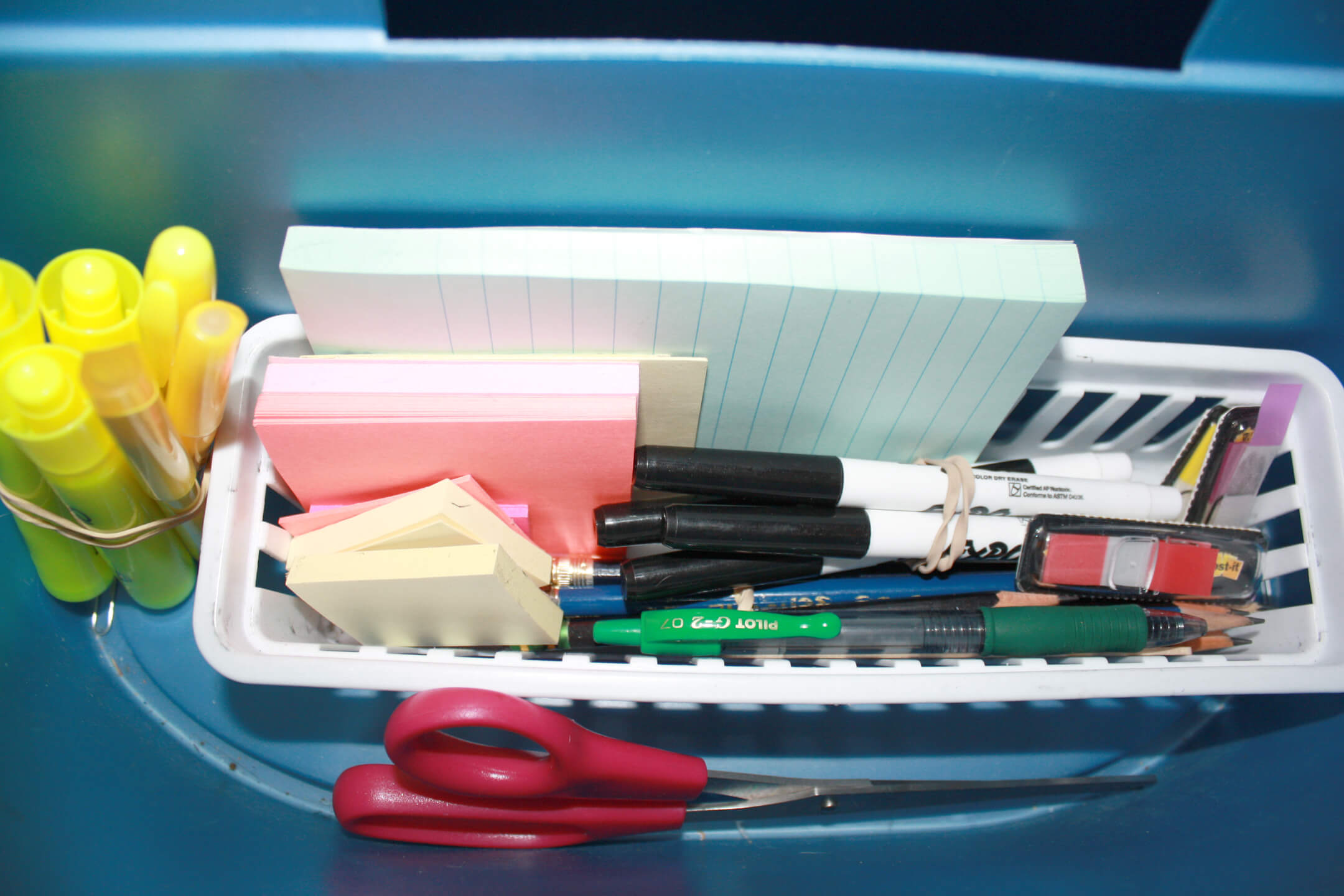 Back Section of Tote
The other side of the tote can house all the large supplies. The resource charts and tools for activities stand up nicely for easy viewing and quick retrieval during the lesson.
White boards for word work or writing responses.
Resource charts kept in page protectors (e.g., ABC charts, blend charts, T-charts with multiple columns for word sorting, etc.).
A clip board with a graphic organizer or piece of paper for the teacher to model jotting thoughts and details about the reading.
A container of wipes to clean off residue on white boards or page protectors.
A small tackle box of magnetic letters organized alphabetically for quick distribution.
NOTE: A binder with lesson plans would fit if the tackle box of magnetic letters is removed/omitted.
TIP: This same small-group supplies tote could also be used by instructional assistants or resource teachers who travel from room to room. The carrying handle makes it easy to transport.